Thanks to Cathy Derecki design and PHP skills we are currently experimenting with the possibilities of using WPMu to great their own website/blog with relative ease. As of right now, faculty and staff have a public folder as a part of their network space that will accept basic HTML files and images (it doesn;t allow PHP for those brave faculty who code). Moreover, their is no real sophisticated authoring or database features that would allow faculty to update their online presence regularly with ease.
So, why not offer WPMu to allow faculty and staff to create their own website? Well, it isn't necessarily our charge here at the Division of Teaching and Learning, but its just an idea that I keep coming back to. Right now if I wanted to have a personal site for my work at UMW I would need to either code the site by hand in HTML (sorry Charlie, not happening) or I could spend some time and learn Dreamweaver or Fireworks or some other nonsense like that. More than that, I would have to figure out how to navigate the wilderness that is the Novell network environment. I'm speculating here, but I would guess that the number of faculty who don['t take advantage of this web space at UMW has more to do with the hurdles of using it rather than a general disinterest.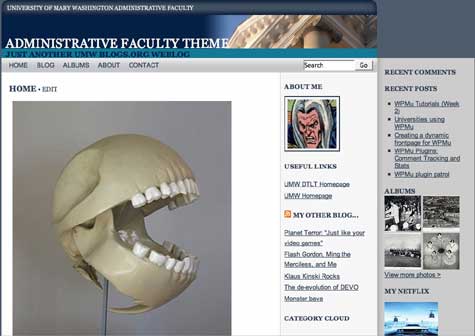 Now, being who I am lazy, a shortcut taker, and a quitter when things get rough, I experimented with the easy way. About a week ago I set up a test case for a faculty site using WordPress and it took me about fifteen to twenty minutes to create it using the customized Semiologic theme Cathy designed. Take a look.